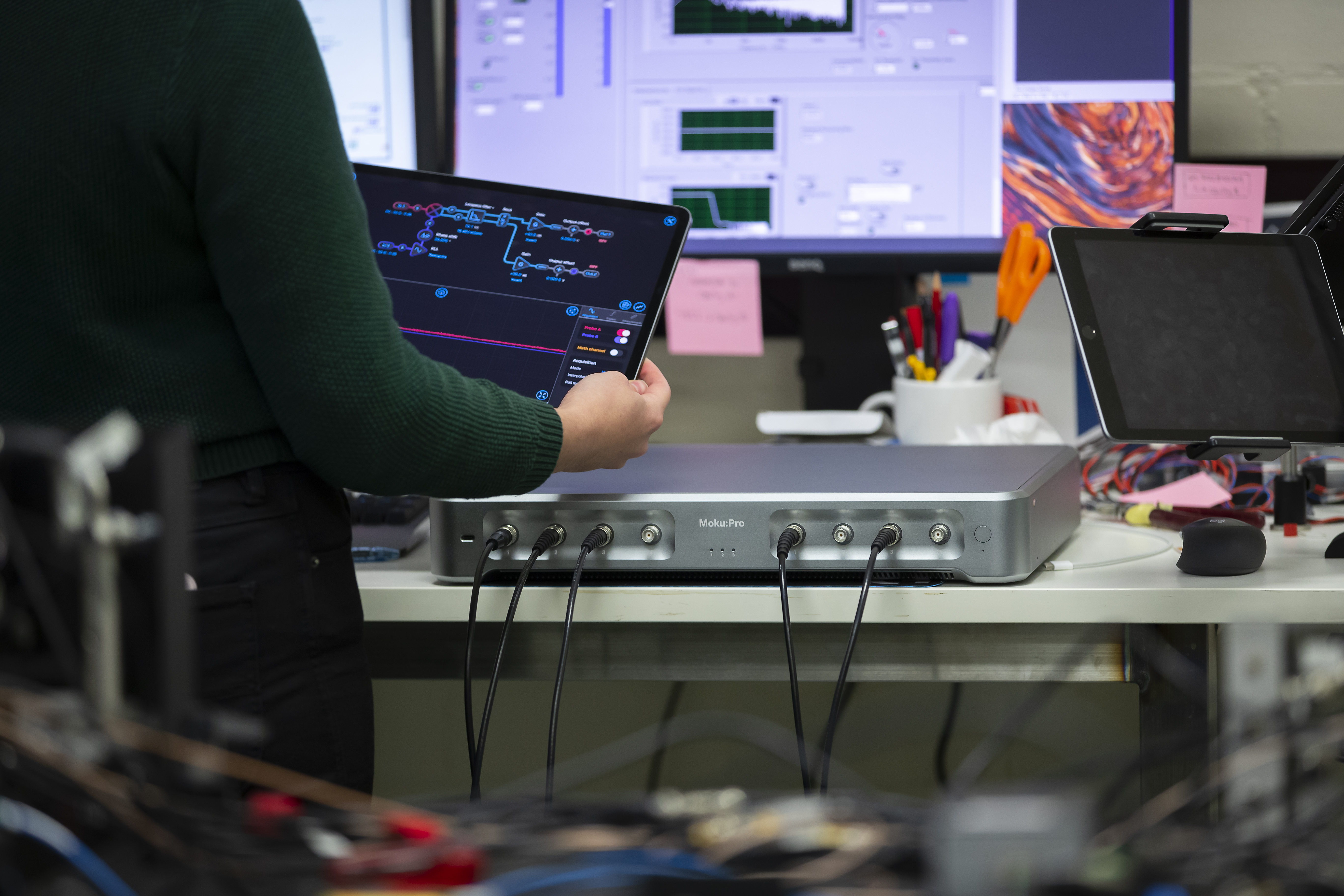 Performance and versatility to advance discovery
Moku:Pro integrates crucial instruments for laser stabilization and measurement, like the Laser Lock Box and Lock-in Amplifier, while also providing test essentials such as the Oscilloscope and Waveform Generator. Thanks to the software-defined, multi-instrument platform, it's easy to integrate custom algorithms into your test sequence.
Lock-in detection
Utilize the 4-channel, 600 MHz Lock-in Amplifier for multiple frequencies or harmonics. Achieve ultra-low noise performance with 10+18-bit blended ADCs.
Laser locking
Easily lock lasers to a cavity using the Laser Lock Box. With Lock Assist, you can instantly lock to any zero-crossing on the demodulated error signal.
Optical PLLs
The integrated PID controller enables easy laser frequency stabilization and phase locking. Adjust parameters and view results in real time to optimize closed-loop control.
Get your experiment up and running, faster
The Moku Laser Lock Box supports Pound-Drever-Hall (PDH) locking, heterodyne offset phase-locking, RF locking, and dither locking. Combine the Laser Lock Box with additional instruments in Multi-instrument Mode to further tailor your instrumentation to your research without needing to buy additional equipment. Watch the video to learn about the Laser Lock Box from our Chief of Hardware.
Applications
With Moku:Pro, you have access to multiple pieces of advanced optics instrumentation in one device. Deployed standalone or in Multi-instrument Mode, the Lock-in Amplifier, Laser Lock Box, and Phasemeter cover applications such as:
• Gravitational wave detection system development
• Interferometry
• Laser frequency stabilization
• Precision spectroscopy
• Stimulated Raman scattering (SRS) microscopy

Learn how to replace complicated laser-locking devices with a next-generation Moku:Lab device and use the Pound-Drever-Hall (PDH) technique to lock a laser to a cavity.
Discover how researchers at Intel Labs are using the Moku:Pro Lock-in Amplifier to advance the field of photonics integrated circuits (PICs) while saving time and reducing experimental complexity.
Learn how to use the Moku:Lab Lock-in Amplifier in stimulated Raman scattering (SRS) microscopy applications.
About Liquid Instruments
Liquid Instruments delivers modern, software-defined test and measurement solutions that provide advanced capabilities, a great user experience, and custom programmability for maximum flexibility and performance in a range of applications.