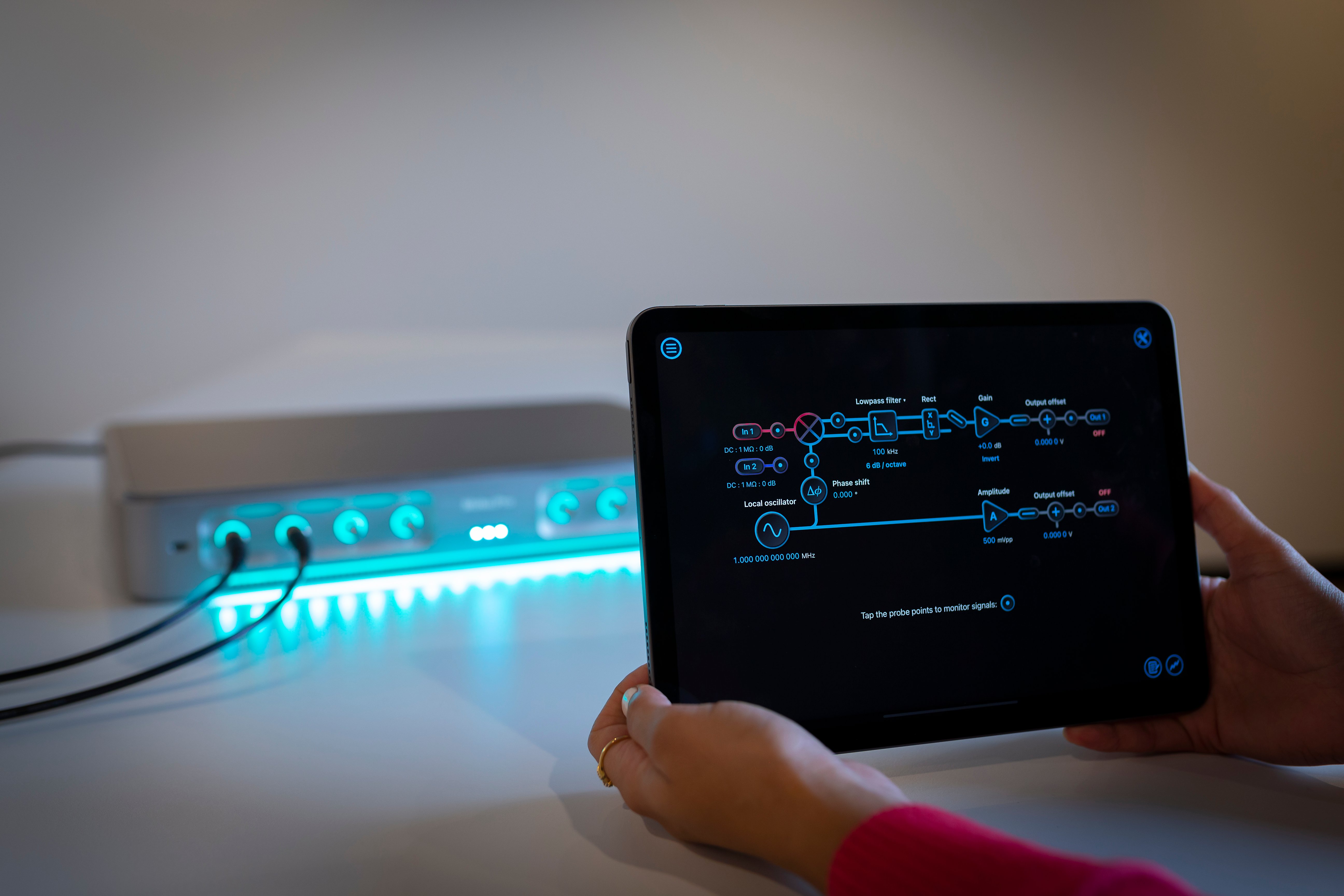 Unmatched flexibility and performance to advance research and discovery
For many microscopy and spectroscopy applications, desired signals are often very weak, making it difficult to perform optical imaging or extract data from samples. The Moku Lock-in Amplifier allows you to efficiently extract these small signals from noise. With Multi-instrument Mode, you can detect multiple frequencies or harmonics simultaneously, with no extra equipment required. Better yet, we offer ultra-low noise performance, specified all the way down to 100 Hz.
Dual-phase demodulation
Select between XY and Rθ coordinate modes, adjust the built-in lowpass filter corner frequency, and configure the desired demodulation source.
Integrated PID Controller
Add the optional high-speed PID Controller for closed-loop control. Adjust parameters to configure gain profiles without interrupting your measurement.
Intuitive signal visualization
Monitor long-term system performance with the integrated four channel, 1.25 GSa/s Oscilloscope while you log data at up to 10 MSa/s using the built-in Data Logger.
Advance medical imaging with multi-channel test
Microscopy measurement techniques such as stimulated Raman scattering (SRS) microscopy are helping to further innovation in biomedical and chemical imaging. This technique allows for label-free imaging, enabling disease diagnosis, pharmaceutical and drug transport research, and other materials science applications.
By using the Moku:Pro Lock-in Amplifier, you can streamline sample analysis by engaging four Lock-in Amplifiers simultaneously through Multi-instrument Mode.
Enable ultra-sensitive measurements
When developing a highly sensitive laser spectroscopy technique for ppb-level detection of methane to extract sensitivity to dark matter, researchers at the University of Alberta selected Moku:Lab because of its high performance and advanced flexibility.
To further enhance Lock-in Amplifier sensitivity, Moku:Pro utilizes a patented ADC-blending approach. Try the software in demo mode to test drive the Lock-in Amplifier, with built-in probe points and data logging capabilities.
Learn how researchers at Boston University implemented the Moku:Lab Lock-in Amplifier in a state-of-the-art stimulated Raman imaging setup.
Read more about the class-leading features, advanced specifications, and range of applications for the Moku:Pro Lock-in Amplifier.
Learn how University of Washington researchers used Moku:Pro to perform a variety of experiments and extract the low-intensity SRS signals with one device.
About Liquid Instruments
Liquid Instruments delivers modern, software-defined test and measurement solutions that provide advanced capabilities, a great user experience, and custom programmability for maximum flexibility and performance in a range of applications.